Posted on December 26 2018
5 Essential Neckties Every Man Should Own
Posted at 17:27 - 26th December - Neckties
You might own an extensive collections of neckties where some of them are gifted from friends and families. You might also build your collection from frequent purchase of ties to be matched with your day to day shirt and suits. But how many of these ties are actually versatile enough to be worn for multiple occasions and events?
Your collection of necktie should be made of styles that are classic, timeless and versatile to be worn alternately on day to day basis.
If you are looking for your first necktie and looking for the perfect foundation to build your personal collection. It is ideal to begin with a dark, deep and rich colours as it the safest and most versatile option. A smooth and matte finishing dark blue, dark green or burgundy is a preferable option rather than a glossy and bright option.
Both dark and bright colours appeal to a business setting even though the darker shades are considered to be a preferred choice.
Pastel and modest textured solid colour ties are great to be matched with solid colour shirts.
Can opt for patterned or textured tie in any bright colour ties.
The option of solid colours are no longer restricted to black as more and more gents are venturing to a brighter and bolder shade of colours. Men's fashion like other evolving trends has grown more flexible with a wider room for creativity and self-expression through colours.
The distinctive dotted patterns introduce a flattering contrast to your daily plain shirts or suits. Although it is not recommended to be worn for major business deals or board meetings, it is totally relevant for day to-day office wear with an added unique character that will not clash with your office wear. Stick to a dark and deep background colour with small and widely scattered dots for an edgy yet professional finishing.
Opt for other styles of tie like solid colour or foulard ties as polka dot ties is not ideal to be worn in a strict business setting.
For a more appealing option, choose a contrasting texture or shine finishing, for example a matte background underneath shiny dots.
You can also select a shirt that matches the dots on your ties for a more customized final look.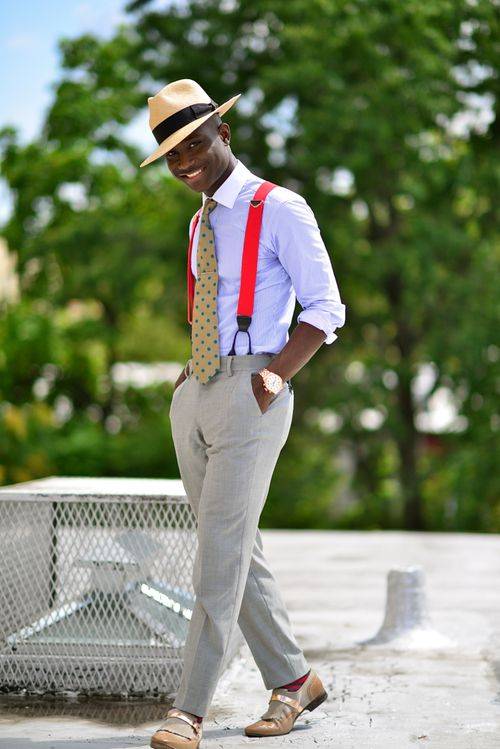 Foulard ties can be recognised from a repetitive symmetrical pattern arranged in a fixed grid square. It is the go-to choice for the gents that would like to incorporate fine pattern into their daily formal or casual wear and stand out from the crowd but not drawing too much attention. The formality of a foulard tie depends on the contrast of the prints. A minimal contrast fits the nature of a formal event whereas a bolder and stark contrast is acceptable in a casual event. E.g: red patterns on a dark blue background gives a laid back and fun vibe whereas a lighter blue patterns on top of a dark blue is more appropriate for a slightly formal dress code.
Try to minimize the contrast of colours and choose from a similar shade of colour with probably one mild contrasting element. A distracting floral or geometric pattern is more appropriate for a casual event hence it is ideal to choose a fixed "wallpaper" like prints.
You have more room to experiment with unique patterns and bright colours for a casual event. E.g: geometric, floral and abstract patterns.
Be creative with repetitive prints of quirky or iconic images. But keeping in mind that bigger prints are only limited for partying affairs as they are associated with novelty ties feature whereas smaller prints are fit to be styled at business casual events.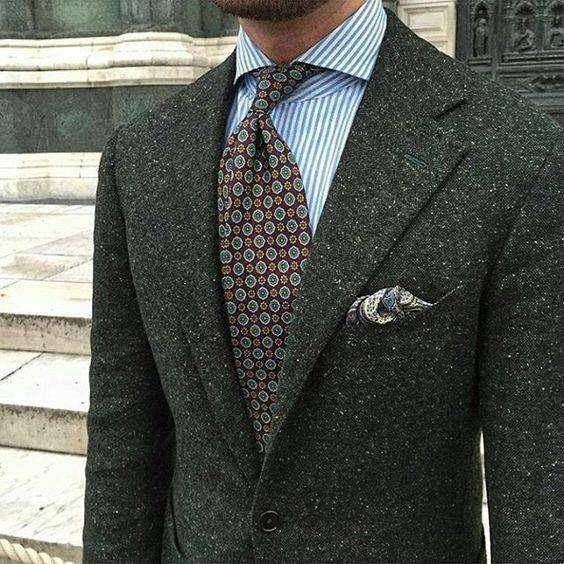 Features paisley figures that are placed on a solid background, decoratively lined and filled with abstract design. The spaces between the paisley figures are alternatively filled with smaller scales of floral designs. As long as you match it with a plain shirts, The paisley pattern will not clash with your formal or semi casual business look.
Intensify the paisley design without demanding too much attention with a deep and dark background of tie with light highlight. E.g: deep dark blue background with light grey paisleys highlighted with golden lines.
Bolder paisley figures on top of a lighter background will be perfect for a relaxed evening outing.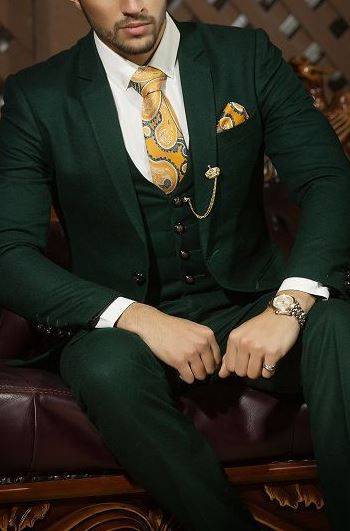 University neckties are similarly appropriate for both formal and casual setting unlike the regimental stripes style. It features a diagonal stripes of equal size that slant downwards from left to right. It has become one of the essential style of neckties typically to be worn at workplace.
Neutral stripes fit the general-purpose business tie.Typically chosen by a younger group of men. Some people see it as a typical stripe patterns or given a personal customization to represent particular association like schools or clubs.
Widely acceptable as its association to schools and clubs make it appropriate for informal setting.
The diagonal stripes pattern makes it appropriate for a fun and casual events.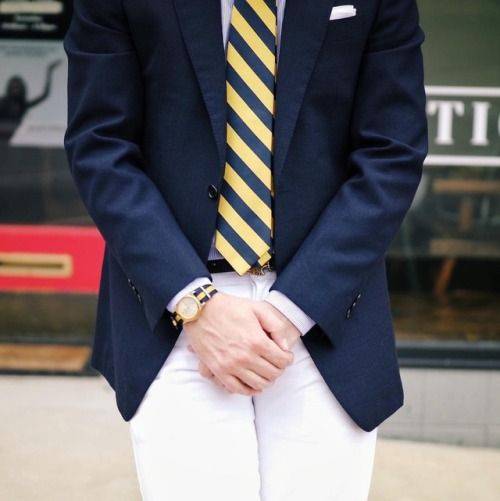 ---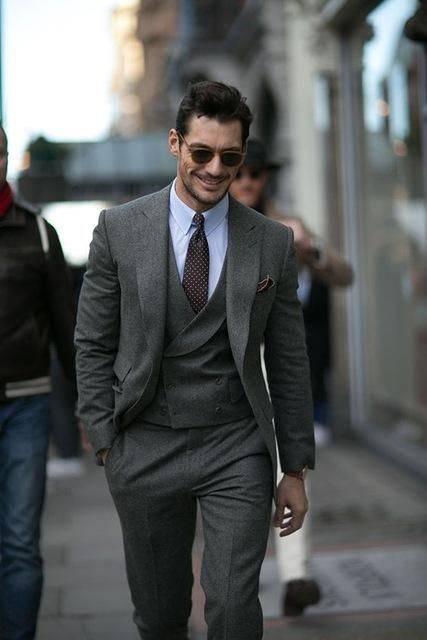 To recap, the ideal guideline to help you manage your day to day neck tie styling:
1-2 solid color tie - basic, versatile and a classic choice for general purpose business tie.

1-2 polka dot ties - introduce an unique character for business setting as an alternative for solid colour.

1-2 foulard ties - laid back and fun alternative for a business attire.